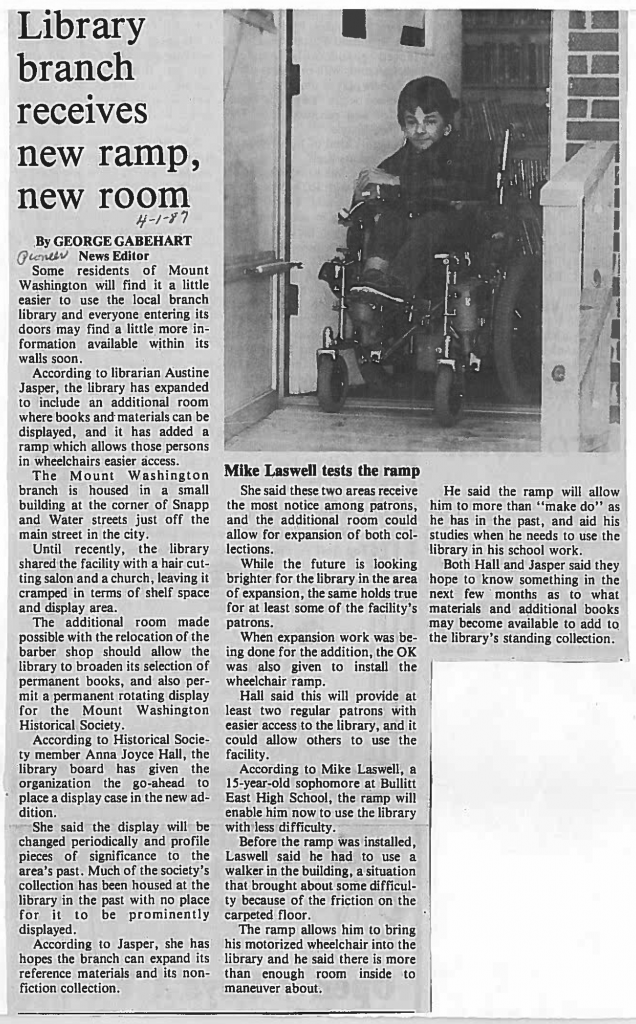 The Pioneer News – 4-1-1987 – Article Text
Library branch receives new ramp, new room
By George Gabehart, News Editor
Some residents of Mount Washington will find it a little easier to use the local branch library and everyone entering its door may find a little more information available within its walls soon.
According to librarian Austine Jasper, the library has expanded to include an additional room where books and materials can be displayed, and it has added a ramp which allows those persons in wheelchairs easier access.
The Mount Washington branch is housed in a small building at the corner of Snapp and Water streets just off the main street in the city.
Until recently, the library shared the facility with a hair cutting salon and a church, leaving it cramped in terms of shelf space and display area.
The additional room made possible with the relocation of the barber shop should allow the library to broaden its selection of permanent books, and also permit a permanent rotating display for the Mount Washington Historical Society.
According to Historical Society member Anna Joyce Hall, the library board has given the organization the go-ahead to place a display case in the new addition.
She said the display will be changed periodically and profile pieces of significance to the area's past. Much of the society's collection has been housed at the library in the past with no place for it to be prominently displayed.
According to Jasper, she has hopes the branch can expand its reference materials and its nonfiction collection.
(Photo Caption: Mike Laswell tests the ramp.)
She said these two areas receive the most notice among patrons, and the additional room could allow for expansion of both collections.
While the future is looking brighter for the library in the area of expansion, the same holds true for at least some of the facility's patrons.
When expansion work was being done for the addition, the OK was also given to install the wheelchair ramp.
Hall said this will provide at least two regular patrons with easier access to the library, and it could allow others to use the facility.
According the Mike Laswell, a 15-year-old sophomore at Bullitt East High School, the ramp will enable him now to use the library with less difficulty.
Before the ramp was installed, Laswell said he had to use a walker in the building, a situation that brought about some difficulty because of the friction on the carpeted floor.
The ramp allows him to bring his motorized wheelchair into the library and he said there is more than enough room inside to maneuver about.
He said the ramp will allow him to more than "make do" as he has in the past, and aid his studies when he needs to use the library in his school work.
Both Hall and Jasper said they hope to know something in the next few months as to what materials and additional books may become available to add to the library's standing collection.