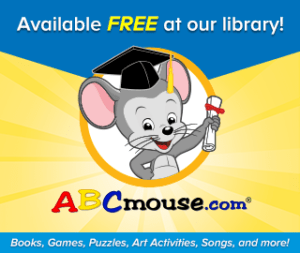 Now available in the library AND at home!
The award-winning ABCmouse curriculum is designed to help young children ages 2–8+ build a strong foundation for future academic success. Subject areas include reading, math, science, social studies, art, and music. ABCmouse is 100% educational, with more than 10,000 interactive learning activities ranging from books and videos to games, puzzles, songs, art activities, printables, and more—including more than 1,200 learning activities in Spanish.
Best of all, kids love it!
Click here for home use      Click here for in-library use
More to know:
You can access ABCmouse at any BCPL branch on any public computer or on a personal laptop connected to our Wi-Fi—no account required! To use ABCmouse on your mobile device while connected to our Wi-Fi, download the ABCmouse app.
When ABCmouse is accessed with ABCmouse Bring Learning Home, your account can be shared by up to three children in a household, each with their own avatar, profile, and progress tracking on the ABCmouse Step-by-Step Learning Path.
For more information or help navigating the site, check out this curriculum overview from ABCmouse.