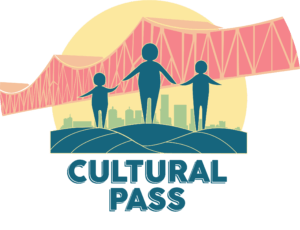 Cultural Passes are available at all locations!

The Cultural Pass is your ticket to an amazing assortment of nearly 50 arts, culture, and heritage experiences based in the Louisville Metro area. Cultural Pass experiences promote "creativity, inspiration, educational opportunities, and lifelong learning about where we come from (our heritage), who we are (our culture), and how we express both of those things (art)."
Youth ages 0–21 are eligible for one pass, which is valid for one-time general admission at each participating institution (some restrictions may apply). Free admission is also permitted for up to one adult accompanying each Cultural Pass holder ages 15 and younger. Passes are valid June 1st–August 6th.
Venues offering free general admission as part of the 2023 Cultural Pass include Blackacre Conservancy, Carnegie Center for Art and History, Commonwealth Theatre Center, The Falls of the Ohio State Park, Farmington Historic Plantation, Flamenco Louisville, Frazier History Museum, Kentucky Derby Museum, Kentucky Science Center, Louisville Nature Center, Louisville Zoo, Muhammad Ali Center, Roots 101 African American Museum, Yew Dell Botanical Gardens, and many, many more!
Plus, as if exciting summer adventures is not enough, a limited number of prizes will be awarded to selected Cultural Pass participants at the end of the summer. Prizes will include tickets to Redline's production of Into the Woods, a Yew Dell Botanical Gardens family membership, a KMAC family membership, a Kentucky Science Center 1-year membership, art supplies, amd a SPEED Art Museum family membership!
UPDATE 6/20/23: Due to unforeseen circumstances, the Food Literacy Project venue is closed and no longer open to Cultural Pass visitors.
---
According to the Fund for the Arts, the Cultural Pass has three intended objectives for the youth in our area:
Impact summer learning loss by creating a learning experience through programming, activities, and education.
Establish a life-long relationship between Louisville's children and the art and cultural institutions.
Work to address barriers that may prohibit children from accessing the city's art and cultural venues.
You can register now in Beanstack, and Cultural Passes will be available at all Bullitt County Public Library locations beginning June 1st.
Once you complete and record your activities, the badge will light up to congratulate you!
If you visit a venue during the program period and your badge doesn't light up immediately, don't worry! There is often a delay before badges are activated in Beanstack. Each venue will be reporting visits multiple times over the summer; if your badge isn't yet activated, your visit probably hasn't been reported yet!
If you participate in virtual activities, you can click the checkbox to mark them complete.
For more information, visit the Fund for the Arts at fundforthearts.org/culturalpass.